Updating Your Firm Details
The "Firm Details" area includes information about your practice. Some of this information is added automatically when you join LawLytics. To update your firm details, hover over your name in the top right-hand corner of the LawLytics control panel. From the drop-down menu that appears, select "Firm Details."
Firm Details Settings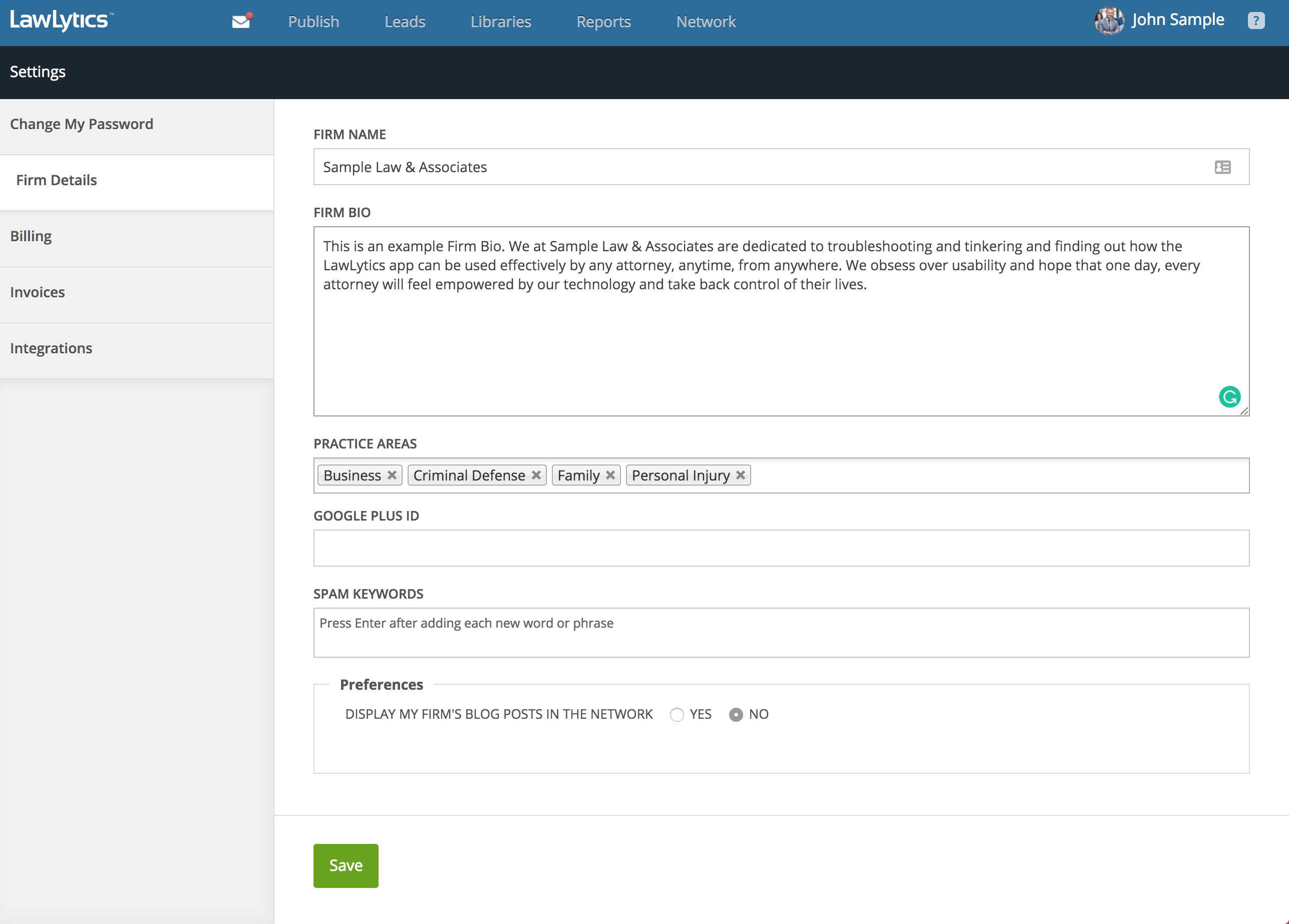 Firm Name
This section allows you to edit the name of your firm. Your "Firm Name" will appear on the LawLytics Network in association with attorney profiles in your account.
Firm Bio
The "Firm Bio" allows you to provide a short summary about your firm that will be displayed in the LawLytics Network. This is optional. The "Firm Bio" will not be displayed on your public-facing website.
Practice Areas
This section allows you to select your practice areas. Selecting practice areas can enable other LawLytics Network attorney members to find you and follow you for cross-marketing opportunities.
Spam Keywords
Enter keywords here that have appeared in spam messages sent to you through form submissions. All submissions containing those keywords will be blocked in the future. Please note that adding general spam keywords in this section that are not unique to spam messages will block all submissions that use those specific terms. For more on this topic, read our article on "How to Deal with Spam."
Preferences
Select "Yes" to share your firm details within the LawLytics Network. Select "No" to keep those details private. Firm details shared within the LawLytics Network to facilitate potential marketing and professional collaboration are not shared on your public-facing website.
If you have additional questions, email our support team at [email protected] or call us at (800) 713-0161 during our regular business hours.