Case Results
Displaying your case results is a powerful way to showcase your success to potential clients. Adding case results will automatically populate and update the case results index.
Note: Always check your state and local bar ethics rules to ensure that you use this feature in compliance with professional responsibility requirements.
Why should I add case results to my LawLytics website?
Displaying case results on your law firm's website can drive more business to your firm. Your previous successes as an attorney are important points of social proof for your potential clients that can increase their confidence in your work, encourage them to engage you, and ultimately hire you.
Your potential clients read case results with themselves in mind — they'll put themselves into the shoes of the clients who are the subject of your results.
To learn about how to write more effective case results that resonate with your potential clients — regardless of the result's size or scope — see our blog post, " How To Leverage Both High-End and Low-End Case Results To Drive More Business To Your Law Firm."
To learn how to add case results to your LawLytics website, read on.
How do I add case results to my LawLytics website?
To publish a new case result, click on the "New Case" button.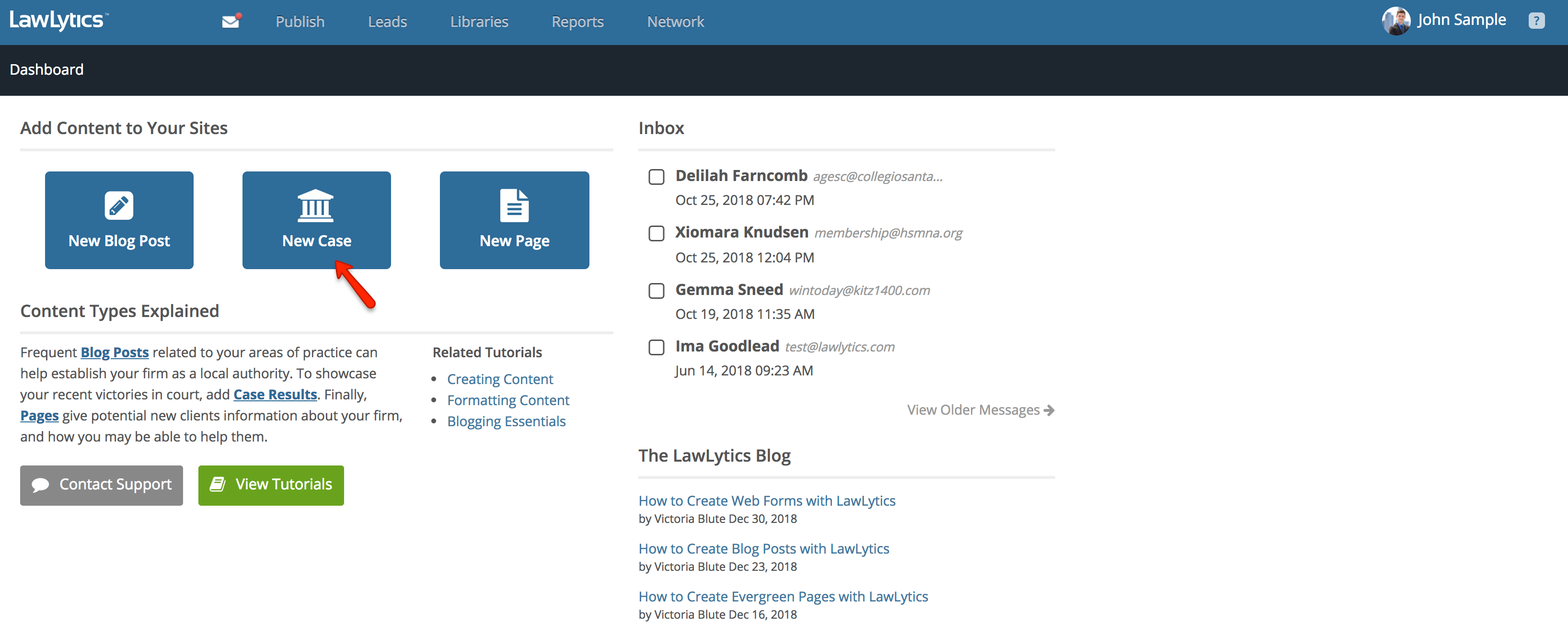 You can also navigate to the "Publish" tab and select the "Case Results" tab underneath.
In your case results module, you'll see a list of all your existing case results on the left.
You can reorder case results by clicking and dragging them above or below one another. This will reorder them on your website(s) in real-time. The top case result in the sidebar will appear as the first case results on your case results index page.
Click the green "New" button to create a new case result. You'll be given a blank content editor to create your new case result.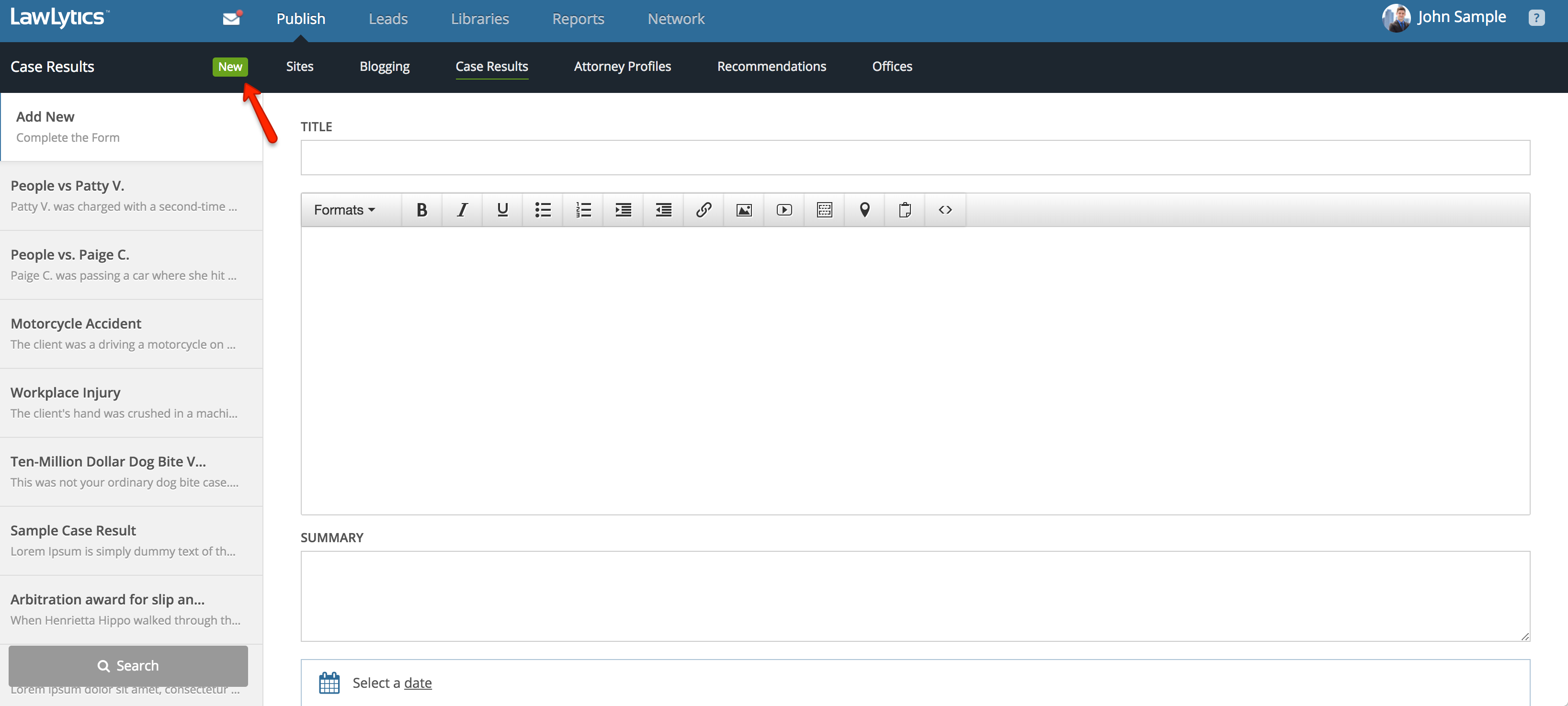 You can also select an existing case result in the left menu to edit it. Select the case result, then click "Edit" to make changes.

When you're done editing your case result, click "Publish Changes".
How do I use the LawLytics case results features?
The LawLytics case results module contains several useful features to help you get the most out of each case result that you publish to your LawLytics website. Here's how to use them.
Title
The case name will be displayed online. Name the case appropriately to preserve client confidences.
Body
You'll add the text of your case result here.
Summary
Add a summary to describe the case result. The summary will appear in the case results index. While the summary is automatically generated by LawLytics, it's optional and it can be edited.
Date
Enter a date for your result. You can use dates to provide additional ways to organize and display your case results. Adding the date is optional.
Responsible Attorney
This is the attorney who receives credit for the case result. If left blank, it will be listed as a firm result.
Practice Areas
Select which practice area(s) the result belongs to.
Court Name
Enter a court name if you'd like to display or filter results by specific courts. This feature is optional.
Choose an Image
You can select an optional image for your case result. This image will appear in the case results index.
Publish To
Under "Publish To," select the boxes that correspond to the website(s) that will display your results. If you have multiple websites, this option allows you to choose which case results are relevant to each site.
When your result is ready to be published, click the green "Publish" button at the bottom of the page.
How do I edit a published case result?
To edit a case result, select the result from the left sidebar. You can also use the search function to filter by title, practice area, and more.
Once you've selected the case result you want to edit, make changes in the content editor and click the green "Publish" button.
To delete a result, click the "Delete" button. This action is not reversible.
If you have questions about case results and your LawLytics website, call us at (800) 713-0161 during our regular business hours, or email us at [email protected].