Creating and Using Forms
Forms can be placed almost anywhere on your LawLytics site. By default, a contact form exists on your site's sidebar and contact page. This form allows potential clients to submit information and request a consultation with your firm. Forms are customizable; fields may be added or removed.
A minimum of three required fields must be filled out.
The original contact form created for you has four fields:
Name
Phone Number
Email
Message
(Email is, by default, not a required field.)
When a potential client submits a form, their name, phone number, and email are automatically added to the "Leads" section of your control panel when you promote that form submission to a lead.
Note: We recommend that you do not ask for personal information in a form submission. Because certain form submissions can be intercepted, it's best to only ask for general information in your forms.
Why should I use forms on my LawLytics website?
Our system allows you to create a variety of different forms, from basic "Contact Us" forms to complex client questionnaires, and there's no limit on how many you can create or use on your site.
Forms can encourage potential new clients to contact you; they can help with client intake once someone is already engaged, and they can also facilitate client communication. Good contact forms help you to communicate directly with people on your website.
For example, aside from a basic contact form, a personal injury attorney might create an auto accident intake form like the following:
Adding New Forms
To access your forms, hover over "Libraries" in the main navigation and then click "Forms."
Click the green "New" button in the top left corner to create a new form.
You'll be taken to a new form with blank fields.
Filling out your form's fields
Your form features several fields to fill out, as well as customizable form fields.
Title
Name your form. This form title appears above a form widget in the sidebar or in your body content.
Intro Text
This is the text that web visitors will see above the form fields. You may want to use this area to guide web visitors as to what they should do next and encourage them to fill out your form. For example, the intro text could be something as simple as, "Complete the form below and our firm will contact you as soon as possible."
Response Message
This text is what web visitors receive when they have successfully submitted the form.
Customizable Form Fields
By default, the same four fields (Name, Phone Number, Email, Message) will always appear in your forms.
To add a new form field, scroll down to "Customize Form Fields" and click the "Add Form Field" link. This link can be found at the bottom left of the "Customize Form Fields" section. When you click the "Add Form Field" link, you'll be provided with an empty field to customize.
To customize the field, click the empty box and title the new field. (For example, you may add an extra field for "Alternate Phone Number.")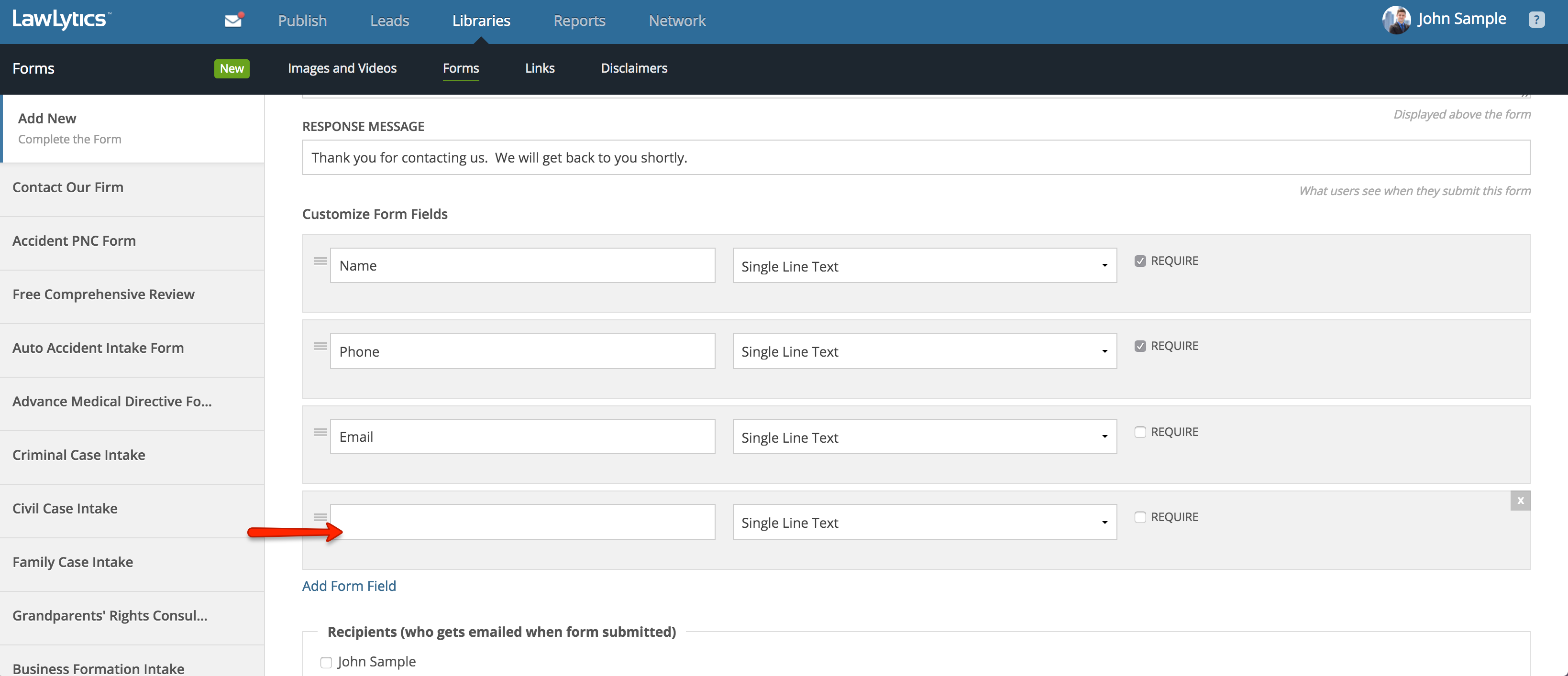 Customize the input type with the dropdown menu to the right of the field title.
You can select from four different input types:
Single Line Text
This input type provides a single line of text. It can be used for fields such as name, email address or phone number.
Multi-Line Text
This input type provides a text box that allows a web visitor to add a detailed message.
Dropdown Menu
This input type allows your web visitors to select an option from a dropdown menu. For example, if you're a personal injury attorney and you'd like information from a web visitor about what kind of injury they've suffered, you might create a dropdown menu like this:
To add the options a web visitor can select in the dropdown menu, select "Dropdown Menu," then click "Field Options." Add text to the box provided and click "Add Option" to add another selection for your dropdown menu. To delete an option for the dropdown menu, click the small gray "X" featured in the text box.
Checkboxes
This input type allows web visitors to select multiple items at once. Let's use the personal injury example again. Perhaps you'd like additional information about the injury a potential client has suffered. You might create a checkbox field like the one below:

How do I reorder or delete form fields?
To reorder form fields, click and drag the bar icon on the left.
To delete form fields, click the X in the top right corner of each individual form field. (Please note that name, phone, and email cannot be deleted.)
Can I make certain fields required?
Yes. To choose which fields must be filled out by web visitors, check the box marked "Require" to the right of the form field.
About Recipients
"Recipients" lets you choose which users in your LawLytics account receive an email when a form is submitted by a web visitor. Use the checkboxes provided to select who should receive form submission notifications.
LawLytics account users will receive notifications through the email address they use to log in. For example, if John Sample uses [email protected] to log into his LawLytics account, and he is marked as a recipient for form submissions, his email notifications will be sent to [email protected].
Note: To send a message to the web visitor who submitted a form, you can reply to the email notification you received. However, your response will not reach the web visitor if they submitted a false email address or did not include an email address in their submission.
How do I edit an existing form?
To edit an existing form, click on the name of the form in the left sidebar. Make your changes to the form fields as needed.
Once you have made your changes, click "Save Form".
Testing Forms
Once you create a new form, it's a good idea to test your form by submitting one to yourself. To test your form, fill the form out as if you were a web visitor and submit it. This will ensure that your selected recipients are receiving email notifications, the correct form fields are required, and a form submitter receives a notice that their form has been successfully submitted.
If you have any questions regarding forms, please call us at (800) 713-0161 during our regular business hours, or email us at [email protected].